2021 Toyota Avalon
The 2021 Toyota Avalon is certainly sleek and beautiful, but not all spacious cars are. Toyota is showing buyers that vehicles that are incredibly fuel-efficient can also be extremely attractive. The brand has always been known for its high level of sophistication, which is also evident in the Avalon. The interior space is comparable to that of some SUVs.
Trims to Select from at Hoover Toyota:
The Avalon is also available as a hybrid, but this write-up is only about its gas-powered models. Expect the trims given below to be available for the 2021 Toyota Avalon:
XLE
Touring
Limited
XSE Night Shade
TRD
Those familiar with the previous version of the vehicle will note that the XSE Nightshade is an all-new model for 2021. Toyota further delights its customers by including a range of safety and infotainment options in the base model XLE. In fact, this model also comes with commendable safety and infotainment features.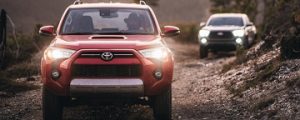 Exterior Aesthetics:
The headlights of the 2021 Toyota Avalon have a beautiful amber housing with integrated turn signals. The grille bars give the vehicle a bold, tinted appearance at the front end. Buyers will find the XLE with 17-inch alloy wheels, while the XSE Nightshade Edition comes with 19-inch alloy wheels. Aggressive exhaust sounds from the twin tailpipes at the rear give the vehicle a sporty touch.
Engine Underneath the Hood:
On this vehicle, buyers have the option to engage with AWD (All Wheel Drive). It gets two engine options, as described below:
5-liter 4-cylinder engine that can produce 205 hp of power and 185 lbs.-ft of torque.
5-liter V6 engine that can produce 301 hp of power and 267 lbs.-ft of torque.
Both engines have been coupled with 8-speed automatic gearboxes.
The V6 engine is quite powerful and capable of propelling the car forward quickly. AWD is standard on XLE and Limited trim levels at no additional cost. However, a 4-cylinder engine in an AWD vehicle may seem inadequate. This vehicle features traction control and hill start assist to assist with AWD. The car has three different driving modes to choose between Sport, Eco, and Normal.
Interior Aesthetics:
After looking at the back, customers will see the following features:
Rear AC vents
09 Cubic Feet of Cargo Space
60:40 Split
2 USB Ports
In line with the contemporary exterior design, buyers can expect soft materials everywhere and high-quality interior finishes. Front features include:
Wireless Charging Facility
3 USB ports
Push Button Start/Stop
Ambient Lighting System
9-inch Touchscreen Infotainment System with 8 Speakers
Heated Steering Wheel
Manually Adjusted Sunroof
Dual-Zone Automatic Climate Control
Leather-trimmed Seats (Limited trim)
Adequate Space for Cups and Phones
This spacious family sedan is fully capable of comfortably seating five adults, along with Sirius XM radio and navigation as well. Expect the latest HUD (Heads-Up Display) to be available for the Avalon.
Safety Features:
Toyota Safety Sense, available on the 2021 Avalon, provides customers with these safety features:
Lane Departure Warning
Adaptive Cruise Control
Collision Mitigation System with Pedestrian Detection
Automatic Headlights
Blind Spot Monitor and Rear Cross-Traffic Alert
Lane Keep Assist
For more information on the 2021 Toyota Avalon available at Hoover Toyota, visit their website: https://www.hoovertoyota.com/2021-toyota-avalon/